How BNG Prioritized Employee Wellbeing During the COVID-19 Pandemic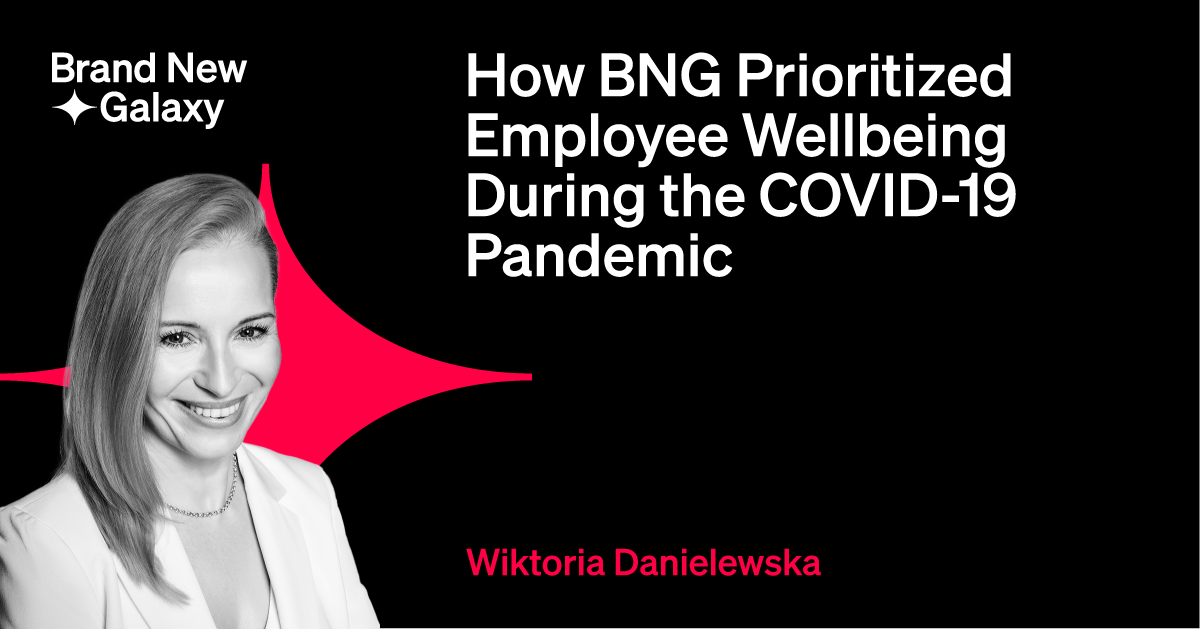 When the COVID-19 pandemic necessitated that people work from home, Brand New Galaxy launched a unique program to help their employees adapt and succeed in a brand new work model. Dubbed the "New Normality Program," this initiative focused specifically on employee wellbeing and communication to help alleviate anxiety and prevent burnout during these unprecedented times.
Brand New Galaxy is a rapidly growing collection of e-commerce and digital marketing agencies, and even before the pandemic took hold the business was in a constant state of change. "We have a lot of challenges and deadlines, and our work is very fast-paced, which can mean a great deal of stress," said Wiktoria Danielewska, Chief People Officer at Brand New Galaxy. "Our people are what creates our company, and thanks to them, we win new clients and expand our business, for which we are grateful."
Brand New Galaxy strives to support its employees with the same high-level, innovative thinking it provides its clients, and as Chief People Officer, Danielewska's job is to support BNG's people in unpredictable times. But what exactly does support mean during a pandemic?
Employee Wellbeing Begins with Communication
In a recent study by McKinsey, 47% of the respondents reported feeling anxious when there was no clear communication from their employer about the future. Even though many organizations have announced an intent to embrace hybrid virtual work moving forward, employees feel that far too few businesses have shared detailed guidelines, policies, expectations, and approaches. This lack of specifics is making employees anxious, which directly impacts employee wellbeing.
"The more unstable the environment is, the more stability our people need, " Danielewska said. "Stability means something different for everyone, so individual support is needed instead of generic solutions. It is a challenge to address all those needs at the same time."
Clear communication is a centerpiece of the New Normality Program, which responds to employee needs regarding BNG's work model, office functions, security, and more, based on regular input from employees.
"We maintain a constant dialogue with all Galaxy companies and employees to know precisely how to help build a business in these interesting and challenging times," Danielewska said. "Viewing reports, tracking trends, conducting workshops with the management board, and sending questionnaires examining employee needs was the beginning of this project, and all the collected data turned into concrete action."
Employee wellbeing isn't the only thing improved by clear communication: According to McKinsey's report, employees who feel included in more detailed communication are nearly five times more likely to report increased productivity.
Embracing the In-Office and Home-Office Hybrid
Working from home is part of the new normal, and Brand New Galaxy understands that addressing both work environments is critical for their employees to be healthy and productive. Early in the pandemic, BNG sent plenty of chairs, computers, and monitors to people's homes to help them work in comfortable surroundings.
"Then, in July 2021, we reopened the offices in Poland, which had been modified," she said. "We have designed more meeting zones, relaxation zones, and agile work zones, and we have introduced a hot desks system. We also focused on the atmosphere in offices: it is cozier, and we are surrounded by greenery." BNG is currently operating in a hybrid mode (up to two days a week in the office), Danielewska explained, and also allows employees to work abroad within the European Union for up to 30 days per year, under the Labor Code.
To help employees navigate this complicated transition, BNG prioritized setting clear expectations that acknowledge the inherent difficulties of working from home. For example, to increase cohesion and accountability between employees working both in the office and abroad, BNG created "Golden Rules for Online and Offline Meetings" to make meetings more efficient and effective. The handy cheat sheet outlines best practices for time management in the office and from home, covering time spent before, during, and after meetings.
These guidelines help ensure that everyone is on the same page, no one's time is wasted, and employees aren't congregating unnecessarily when a simple phone call or email would suffice.
Citing a February 2021 interview with psychotherapist Esther Perel on TED.com, Danielewska expounds on the idea that we no longer work from home but with home. "We work with the house and with everything that creates it, with the home office, with children, parents, and animals, and see ourselves and our colleagues in various roles, not only those we know from the professional environment," she said.
"As an employer, we now have less control, which has given us the chance to trust our employees with even more confidence and strengthened us tremendously as a team. We have never invited so many people to our homes (virtually) in such a short time. This is a huge change, acknowledging the fact that our life is not limited only to the professional space, even at professional times, that we are simply people in different roles, often in the same area and at the same time. It makes us more authentic than ever."
Understanding that so much change can be difficult, BNG began a partnership with Mindgram, an online space dedicated to helping people improve their mental well-being, manage their thoughts and emotions, support their bodies, and build their support system through interpersonal relationships. The platform offers webinars, therapeutic and self-development programs created by psychologists and psychotherapists, and one-on-one sessions with mental health professionals.
Assessing Employee Wellbeing into the Future
There is no instructional manual for operating a business during a pandemic, so the only way companies can hope to succeed is to try new approaches, evaluate them, and reassess moving forward based on the findings.
"We do our best to address as many challenges as possible," said Danielewska. "We are not complacent, and we know that there is still a lot to be done."
To see how well the New Normality Program is performing, BNG gives its employees surveys that rate newly implemented changes and their effects on employee wellbeing. "We listen to the voices of our employees with great attention," Danielewska said. "I take all suggestions as tips for future changes, and I hope we address most of the needs discovered during the surveys."
So far, Brand New Galaxy employees are impressed with the efforts. In the most recent survey, 92.13 % reported feeling that BNG supports remote work effectively, and 95.67% feel that BNG provides a sense of security during the crisis in the marketing world caused by COVID-19.
"The past style of work is never coming back," said Danielewska. "I don't want to look back; I want to propose new solutions designed for new employment styles for our business partners. We have a unique ability to create new normality for our employees. We can adapt. We know that it is a challenge, but it is also a responsibility. It is creating something new."
by: Jeff Kirby
This interview is part of a blog series highlighting the extensive e-commerce expertise and thought leadership throughout Brand New Galaxy – provided by content26. 
Contact for media
We work with global and local media closely. In case of questions or proposals, contact us.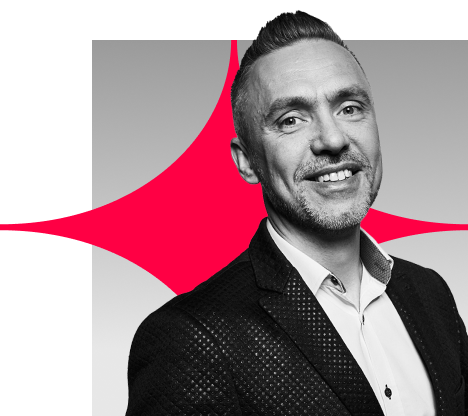 Sebastian Umiński
Global Marketing Director